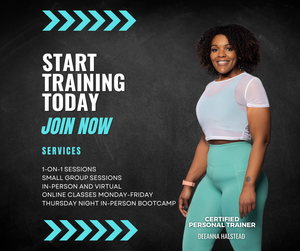 This option gives you 10 personal training sessions.
This pass is valid on in-person and ZOOM sessions.
This Pass is valid for 6 weeks after your first session.
Each session is approximately 45 minutes.
Choice of EMPOWERED, KRAVE or DREAMING Spray
Customer Reviews
02/21/2023
Jessica D.

United States
You want to make chages Deanna is your girl!!
It takes a lot for me to motivate myself when it comes to working out! From the very first workout I connected with Deanna.. like I absolutely look forward to working out in the mornings with her. I love being able to work out from the comfort of privacy… I literally don't put my wig on to go and work out and be totally comfortable while getting a great work out. For the first time in a very long time and im obsessed witht the changes I didn't think I was capable of with my body. My lil booty growing and jiggling. I am overall very satisfied… Deanna is definitely my cup of coffee in the mornings :)